Hong Kong Cards & Payments: Opportunities and Risks to 2023
Pages:

80

Published:

February 2020

Report Code:

GDFS0319CI
The ongoing civil unrest in Hong Kong has given an unanticipated thrust to e-commerce transactions, as there was an 11% jump in the total transaction value from 2018 to 2019. The value is expected to further grow at a compound annual growth rate (CAGR) of 8.8% from an estimated HK$140.2bn (US$17.9bn) in 2019 to HK$196.5bn (US$25.1bn) in 2023.
Nikhil Reddy, Banking and Payments Analyst at GlobalData, comments; "E-commerce spending in Hong Kong will continue to rise on the backdrop of increasing convenience, rising consumer preference for online payments and promotional campaigns by online retailers."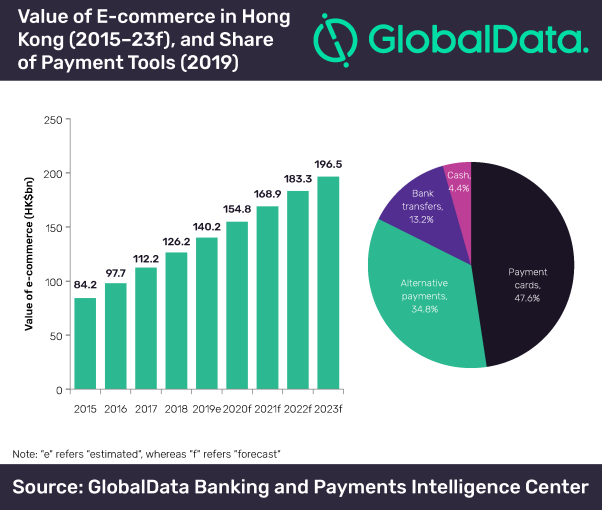 GlobalData's 'Hong Kong Cards & Payments: Opportunities and Risks to 2023' report provides detailed analysis of market trends in Hong Kong cards and payments industry. It provides values and volumes for a number of key performance indicators in the industry, including credit transfers, direct debits, cash, cards, and cheques during the review-period (2015-19e).
The report also analyzes various payment card markets operating in the industry, and provides detailed information on the number of cards in circulation, transaction values and volumes during the review-period and over the forecast-period (2019e-23f). It also offers information on the country's competitive landscape, including the market shares of issuers and schemes.
The report brings together GlobalData's research, modeling, and analysis expertise to allow banks and card issuers to identify segment dynamics and competitive advantages. The report also covers details of regulatory policy and recent changes in the regulatory structure.
Scope
This report provides top-level market analysis, information and insights into Hong Kong's cards and payments industry, including:
Current and forecast values for each market in Hong Kong's cards and payments industry, including debit, credit, and charge cards.
Detailed insight into the payment instruments including credit transfers, direct debits, cheques, cash, and cards. It also includes an overview of the country's key alternative payment instruments.
E-commerce market analysis and payment methods.
Analysis of various market drivers and regulations governing Hong Kong's cards and payments industry.
Detailed analysis of strategies adopted by banks and other institutions to market debits, credit and charge cards.
Reasons to buy
Make strategic business decisions, using top-level historic and forecast market data, related to Hong Kong's cards and payments industry and each market within it.
Understand the key market trends and growth opportunities in Hong Kong's cards and payments industry.
Assess the competitive dynamics in Hong Kong's cards and payments industry.
Gain insights into marketing strategies used for various card types in Hong Kong.
Gain insights into key regulations governing Hong Kong's cards and payments industr
Companies mentioned
HSBC

Standard Chartered

Bank of China

Citibank

DBS Bank

Bank of East Asia

Aeon Credit Service

China Construction Bank

Bank of Communication

EPS

CUP

Visa

Mastercard

American Express

Diners Club
Table of Contents
Table of Contents

Card-based Payments

Merchant Acquiring

E-commerce Payments

Mobile Proximity Payments

P2P Payments

Bill Payments

Alternative Payments

Payment Innovations

Payments Infrastructure & Regulation

Appendix
Discounts available for multiple report purchases.
Join our mailing list
Saved reports